How to start
About MiniTool Mac Data Recovery
As you can see from the name, MiniTool Mac Data Recovery is a data recovery program specially designed and developed for Mac OS. It has a free edition which can help users recover 1GB data for free. Provided with four powerful functional modules, it is almost able to solve all kinds of Mac data loss problems.

But in case that Mac users don't know how to start recovery with this program, we're willing to offer a tutorial on how to start Mac Data Recovery. Please read the following MiniTool Mac Data Recovery tutorial if you're running or going to run a Mac.


How to Start MiniTool Mac Data Recovery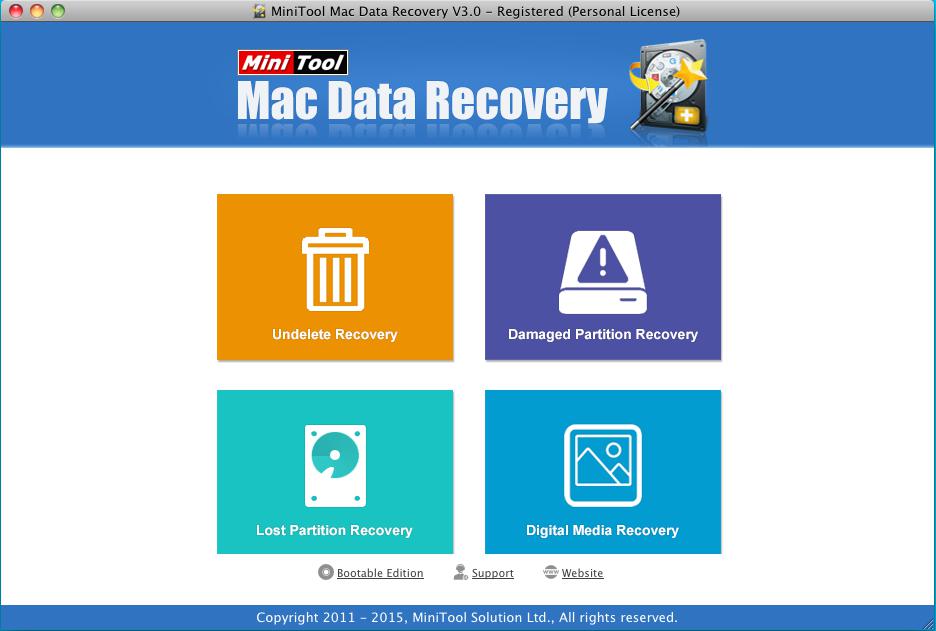 After launching MiniTool Mac Data Recovery, you'll see the main window immediately. And now, you need to choose a suitable module to start recovery on the basis of actual situation. Just click on any one of them to enter the corresponding operating interface.

"Undelete Recovery" is designed to help you recover files/folders that were intentionally (or accidentally) deleted and can't be found in Trash. But if your partition is damaged or lost after files/folders deletion, you could try "Damaged Partition Recovery" or "Lost Partition Recovery".

"Damaged Partition Recovery" is suitable when you want to recover files from a re-formatted or damaged partition. You need to select the damaged partition and full scan it to find lost data. If there are more than one damaged partition, you can use this module for several times and scan each of them for one time.

"Lost Partition Recovery" is obviously used to help you recover data from missing partition(s). The partition(s) may disappear from computer because of your unintentional deletion or unknown reasons.

"Digital Media Recovery" is often useful when you want to recover data from a digital media, such as memory card, memory stick, flash drive, MP3 player and iPod. This module mainly focuses on the recovery of photos, videos and audio files. If this module cannot find your lost data, you could also try "Damaged Partition Recovery" or "Lost Partition Recovery".

You can click "Bootable Edition", "Support" or "Website" button at the bottom of this main window to go to corresponding webpage.