Introduction to MiniTool Mac Data Recovery
Welcome to the user manual for MiniTool Mac Data Recovery – the most professional and powerful data recovery software for Mac OS. Actually, we provide cost-effective data recovery solutions for both Windows and Mac users on servers, desktops, laptops, and removable devices, not limited to Mac platform.

To use MiniTool Mac Data Recovery to recover lost data, users need to purchase a license. That is to say our Mac data recovery program is licensed rather than sold. Fortunately, before buying a license, you can experience what the software can do for you with the free edition. This program can help recover almost all lost data as long as the lost data haven't been overwritten by new files. It's like an experienced data recovery technician at home or in your business. If you have any problem or question in data recovery process, we suggest you refer to the Manual or contact us directly.

MiniTool Mac Data Recovery is an all in one Mac data recovery software. Copyright 2011 – 2015, MiniTool Solution Ltd., All rights reserved.


Product Overview
MiniTool Mac Data Recovery is a risk-free and all in one Mac data recovery program. Configured with 4 data recovery modules, it can help users recover files lost due to mistaken deletion, accidental formatting, virus attack, software malfunction, power outage, etc. It can even examines your inaccessible, RAW, or corrupted hard drive, memory card, memory stick, SD card, and other digital media devices to recover needed data.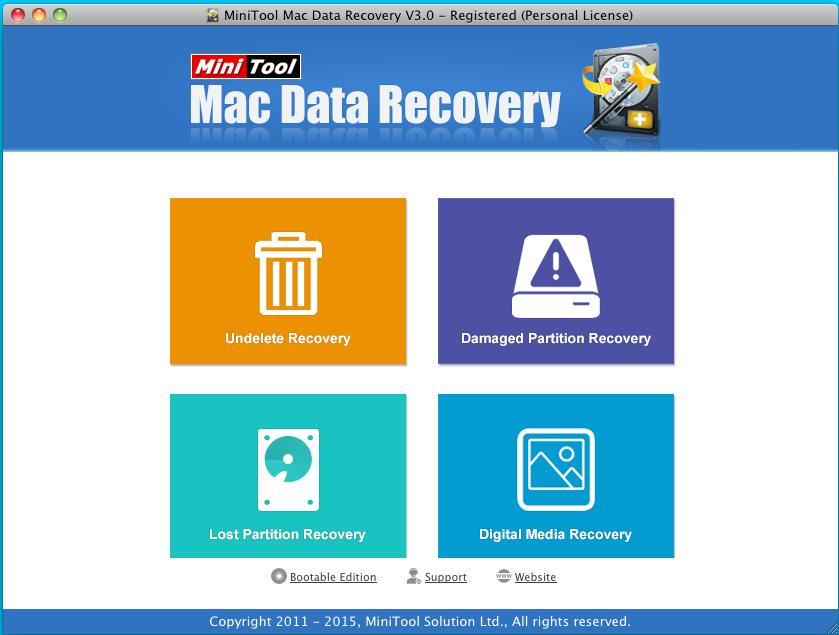 Key Features
Supported file systems: FAT12/16/32 (used by hard disks, memory card, memory stick, USB flash drive, and so on), VFAT, NTFS (mainly used by hard drives), and HFS/HFS+ (main file system for Mac device).
Supported devices: IDE/ATA, SATA, SCSI, USB, Firewire (IEEE1394) hard disks and other media such as USB flash drive, memory stick, memory card, digital camera, digital audio player, and so on.
Ability to scan all volumes in a local machine and build a directory tree of all lost and deleted files. 
Ability to filter needless files so as to save time.
Saving data to any windows drive is possible including network drives, removable media, etc.
Support NTFS compressed and encrypted files.
Supported dynamic volumes, including Simple Volume, Spanned Volume, Striped Volume, Mirrored Volume, and Raid-5 Volume. 
Ability to export scanning results as well as load the previous recovery result.
System Requirements
Operating System: Mac OS X 10.5 and above
CPU: Intel Pentium 1000MHz and above